How To Replace Engine Air Filter On Your Toyota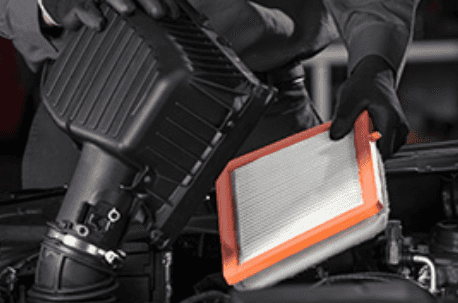 Save money today by replacing your engine air filter, no car maintenance experience required. 
Step 1: Remove The Old Filter
Find and follow the black plastic duct in the engine of your vehicle to the air filter box. Start unscrewing or snapping the latches that hold the air filter box to remove the filter. Note the screen always the engine. The pleats face towards the incoming air.  
Step 2: Determine If It Needs To Be Replaced
In order to determine if the filter needs to be replaced, you must inspect the filter to ensure that it needs to be replaced.
Step 3: Inspect Your Filter
Place your old filter over or near a light and compare it to your new filter. You should be able to easily see light passing through your new filter but if there isn't any light passing through the old filter then it is definitely time to replace it. Once the new filter has been installed, secure the air filter box cover and tighten or snap the latches of your engine. 
If your vehicle is overdue for maintenance or a tune-up, bring it to Toyota of Cedar Park. Our service department is located at 5600 183A, Cedar Park, Texas 78641. We look forward to helping you keep your vehicle in the best condition. Our service hours are Monday – Friday 7:00 AM – 7:00 PM and Saturday 7:00 AM – 5:00 PM. 
Give us a call at (512) 960-3961 or schedule your service appointment online anytime. Visit your local Toyota dealer in Cedar Park, TX;  just a short drive from Austin. Experience the difference!