Toyota sets the standard when it comes to automobiles, and we strive to match that quality at our Toyota dealership serving Cedar Park TX. We are here to provide our customers and community service they can depend on. Whether you're seeking a new Toyota model, a pre-owned vehicle, Toyota parts and accessories, auto service and repairs or just the chance to check out all the latest models. 
Toyota of Cedar park is a proud recipient of several prestigious awards. We are thrilled to share our achievements with you. Read on below to learn more and stop by our dealership to experience the award winning customer service experience.

President's Cabinet
Years awarded: 2019, 2021, 2022
Each year Toyota honors the top dealerships with the most exclusive and prestigious President's Cabinet Award. It recognizes dealerships for operational superiority, high-volume sales and outstanding customer satisfaction. Limited to a maximum of only 12 dealers nationally, Toyota of Cedar Park is a proud recipient, and committed to ensuring customers are continually satisfied as long as they own their vehicles.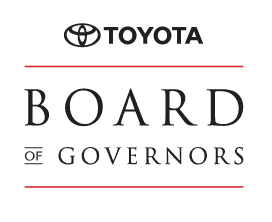 Board of Governors
Years awarded: 2019, 2020, 2021, 2022
Each year, an immaculate group of individuals are recognized for achievement of outstanding vehicle sales performance while demonstrating high standards for customer satisfaction. Given to only 60 dealerships nationwide, these standards ensure that a Board of Governors dealer is committed to customer satisfaction.

President's Award
Years awarded: 2018, 2019, 2020, 2021, 2022
Toyota Motor Sales honors its top-performing dealerships as President's Award Winners, one of the highest honors any dealership can receive from the automaker. The team here at Toyota of Cedar Park is proud to have been selected among such a large and talented group of dealerships for the third year in a row. We are dedicated to maintaining the highest quality of customer service and sales work that we can possibly achieve.
Offering top quality cars and trucks is, of course, the first step- but only the beginning. Toyota dealerships strive to match the quality of our products with the finest service in the industry. In order to qualify as a President's Award winner, dealerships must excel in each of a series of categories, including customer sales satisfaction and customer service satisfaction. Dealerships which meet the requirements in all categories receive name badge recognition at all dealer events, national recognition in an Automotive News advertisement and, of course, the beautiful President's Award Tiffany crystal trophy. Visit us and experience what award winning service can mean to you!