How To Change A Tire Successfully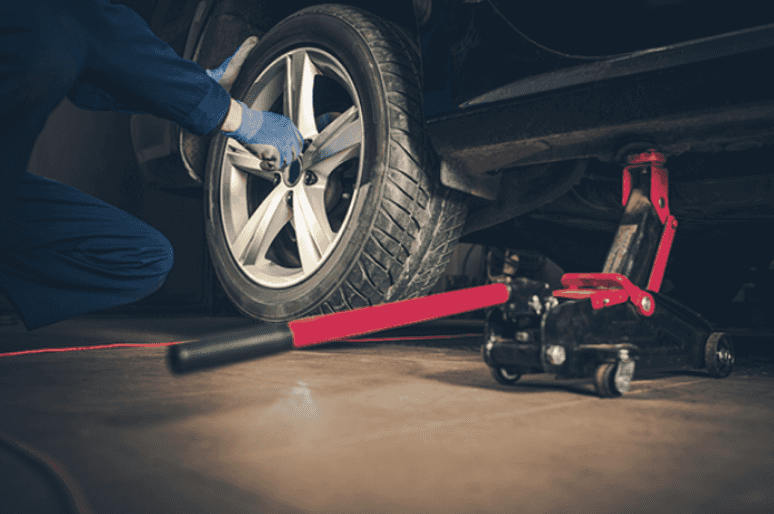 Life happens and so do flat tires, there is nothing worse than being stranded on the side of the road with a flat tire. But no way to fix it, most choose to have their tire changed by a professional but the time may come when you simply have to do it all by yourself. Which it is best to prepare now than waiting for trouble to strike, and ensure you have the proper tools and information.
Here is a list of essentials to keep in your car to assist you in changing future tires:

Park In A Safe Place
Try not to park on the grass or dirt if possible – to avoid your jack sinking into the dirt and becoming unstable. Especially avoid parking on hills to prevent your car from rolling back. 
Make Sure Your Vehicle is Secure
Turn off your engine and cut on your emergency or parking brake before changing the flat tire. Use wheel chocks or heavy rock behind the opposite side of the side that you are raising to keep your car from rolling away. 
Keep Your Jack, Tools and Spare Tires Close
Be sure to consult your owner's manual to find out the location of your jack, spare tire, or tire tools if you haven't used them before. Once you have these essentials, practice with them and get familiar with how to use them, so you feel comfortable with performing the next steps. 
It is dangerous and irresponsible to wait to learn how to use all of your tools in dark or a rainy day. We strongly recommend that you do a practice run to ensure that when your tire is not flat you will be able to fully perform and finish the task. 
Make Sure to Loosen the Lug Nuts Slightly Before Jacking Your Car
Be sure to remove your wheel cover (hubcap), before using a screwdriver or using the flat end of the lug wrench or jack handle. Keep in mind that some cars, the wheel cover should be held in place using the lug nuts. While leaving the style cover on the flat wheel. 
Loosen the lug nuts with the lug wrench by turning the wrench counterclockwise. Holding the wrench by pushing down firmly, make sure to never pull up on the wrench. If the nuts on your car are too tight, using a penetrating oil to loosen them or your foot to push down on lug wrench. Loosen the lug nuts by only one turn, and do not remove any of the lug nuts at this time.   
Lifting Up Your Car
Review your owner's manual to know the best way to secure the jack, read thoroughly and carefully! Lift your car at least 6 inches of the ground, or the amount needed to properly remove the flat tire. The lower your car to reposition the jack if you notice that your vehicle seems unstable. Caution: Never place a jack underneath the axle or suspension member. 
Remove the Lug Nuts and Wheel
Remove the nuts with the lug wrench, put the lug nuts in a place that easy to access and where you won't lose them. Like the inside of your car door, take the wheel off and set it aside. 
Remove the Flat Tire
Use both hands to remove the flat tire, move it towards you as you place it under the car. Just in case your car drops unexpectedly from your jack being unstable. Use a hammer to hit the rubber or use a liquid penetrate to loosen all of the joints, and if you have any difficulty removing the tire from rust.   
Replacing the Spare
Place your spare tire in front of the wheel, while aligning it with the wheel bolts and then you can add your lug nuts. Turn the lug nuts clockwise by hand as tightly as possible. Take your wrench and use it turn the bolt tight enough so that your tire is secure before you lower the car to the ground. But don't completely tighten all of them. 
Note: Please note that there are several different tightening sequences used for 4- and 5- lug wheels. Tightening the nuts by the correct sequence ensures that the wheel will mount properly and that the stress is evenly distributed over the wheel. 
Slowly Lower Your Car
Lower your vehicle slowly to the ground, remove the jack and blocks. Make sure to tighten the lug nuts as much as possible, and in its proper sequence. CAREFUL: Most spare tires are typically not full-size, normal tires. This means that these small spare tires can't be driven at normal speeds and they should only be driven for a short time and distance. Be sure to consult your owner's manual for warnings and instructions on driving with a compact or small spare tire. Drive Safely.
If your vehicle is overdue for maintenance or a tune-up, bring it to Toyota of Cedar Park. Our service department is located at 5600 183A, Cedar Park, Texas 78641. We look forward to helping you keep your vehicle in the best condition. Our service hours are Monday – Friday 7:00 AM – 7:00 PM and Saturday 7:00 AM – 5:00 PM. 
Give us a call at (512) 960-3961 or schedule your service appointment online anytime. Visit your local Toyota dealer in Cedar Park, TX;  just a short drive from Austin. Experience the difference!